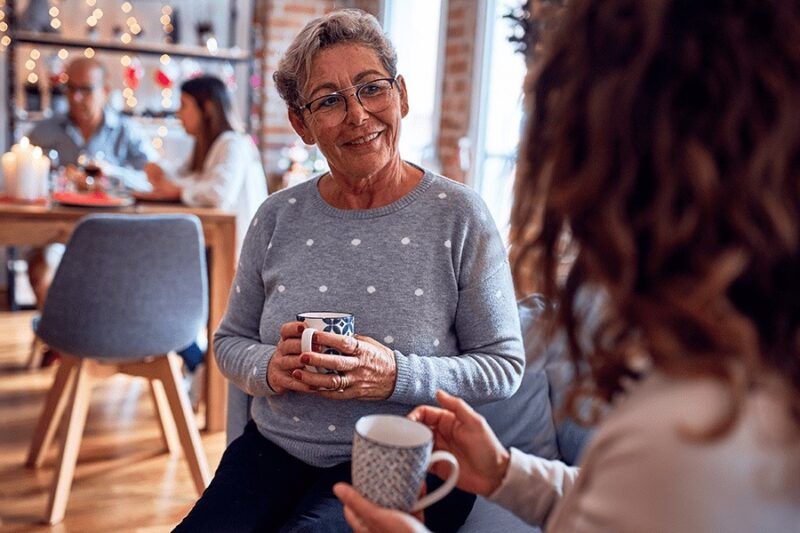 When you think of the holidays, you think of laughter, relaxing and making memories. You probably aren't thinking of how to have a conversation about "just in case" scenarios with your loved ones. However, when your closest relatives are gathered together, that may be the best opportunity to talk about your future. Your children, parents or siblings may not want to think about a future without you at your best, and people may think the holidays are an awkward time to have such serious conversations. But it is important for your family to understand your wishes — and why not bring those up when everyone is together?
Imagine the next holiday season when everyone is frustrated, discouraged and maybe even fighting, because you didn't discuss the "what ifs" or, in some situations, the inevitable. Talking now means your loved ones will know your exact intentions and what you will be asking of them. It also lets you make sure that your family is understanding, prepared and willing to follow and respect your wishes. Give your family, and yourself, peace of mind this holiday by making sure no one has to make difficult decisions on their own.
What Do Just in Case Scenarios Consist Of?
If you become incapacitated or pass away, what happens to your property? Who will handle your estate? What happens to your minor children, especially if the other parent is unable or unwilling to provide? If you take the time now to legally address these scenarios, you know your affairs will be handled with both compassion and precision. Here are just a few examples:
Wills and Trusts
A will is the best way to make your final wishes known. Creating a will leaves no questions or doubts about what you want to happen with your money or property — or even your children — if you pass away.
You can designate who will administer your estate, how your property and finances will be distributed, and, if necessary, who will care for any minor children.
A trust will help protect your assets from probate, making it easier for the administrator of your will to follow through with your wishes.
Health Care Directives
If you become incapacitated due to illness, injury, or something else, you will need someone to make healthcare decisions on your behalf. A health care directive will allow you to name a responsible party as your healthcare agent. It also outlines the type of medical treatment you want, or do not want, to receive.
You can designate the location where you prefer to receive treatment, whether you wish to be an organ donor and other important information in a health care directive. This allows your loved ones to carry out your wishes without having to make these hard decisions themselves.
Custody Designations
A custody designation is a specific document that outlines the custody and care of your children should you become temporarily or permanently incapacitated. Even if you include this information in a will, a will cannot go into effect until the death of the creator. So it is extremely important that you are prepared for any situation that may leave you unable to care for your children. This is even more critical if the child's other parent is unwilling or unable to care for the child. Have a plan in place for your child's sake. If your child is too young to discuss this with them — or you fear that such a discussion will give them more fear of the "what ifs" than peace of mind, discuss this with an adult loved one you trust, as well as the person to whom you're designating this care.
How to Discuss These Topics With Your Loved Ones
If you're waiting for everyone to be gathered together so that you can have this discussion with all involved, make sure only the relevant parties are present. Uncle Bob may have been invited to dinner, but he doesn't need to hear your will's details if he isn't listed in your will. Even relatives or loved ones who may seem otherwise harmless or drama-free can end up showing negative traits or emotions after learning these details, and those details aren't their business anyway.
Gather all relevant parties at one time — like a Christmas morning coffee before the extended family arrives, or at a dinner one night before the chaos hits. Maybe you only need to pull aside one or two people at Christmas to discuss something like a custody designation.
Make sure that moods are light, and that no one has been drinking heavily during or before these discussions. For example, don't bring up your latest will changes as your relatives are coming down from a heated political argument, or if anyone involved has been hitting the eggnog all day. Even if no one is acting belligerent, ask yourself how much your relatives have been drinking throughout the day and if this is the opportune time to really discuss such serious matters. Maybe it's best to even gather everyone the morning of departures before everyone leaves.
Let your family know you're not trying to dampen the holiday mood — you can even acknowledge you know this seems like a morbid topic — but you wanted to bring everyone who is relevant to the conversation up to speed.
Be ready to calmly answer any questions, and if anyone shows heated emotions or objections, tell them you'd be happy to discuss their concerns in a private conversation later, or with you and one other party if you feel like the conversation could become more volatile one on one.
How to Plan for the Unexpected
If you are ready to plan for your future and any potential scenario, it is imperative that you work with an experienced attorney that understands the intricacies of these laws. Working in Northern Minnesota and Northern Wisconsin, Duluth Family Lawyer is here to help you plan for the unexpected. We know it can be confusing and stressful. That is why we are here to help navigate the details and give you peace of mind. That way, your wishes will be carried out as you intend. Contact us for a consultation, and we will be happy to get you on the right path to planning for anything that may arise.